Honorable Mention
2015 Winners
Most of The World's Suitable Farmland is Already Under Cultivation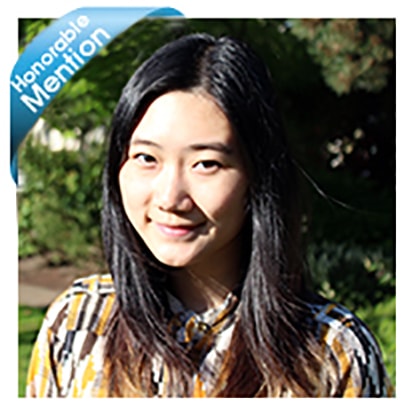 Cynthia Zhou
Sir Winston Churchill Secondary School Vancouver, BC, Canada
Cynthia Zhou is a junior at Sir Winston Churchill Secondary School in Vancouver, British Columbia. She discovered the contest on a student competition website but has been learning different aspects of sustainable farming in a Geography class she's currently taking. "I think sustainable farming is an important tool for our future and our growing population." Finding inspiration in her own life, she decided to highlight meat consumption; she and her family "eat a lot of meat and I notice that it's not just us, its people around us too." She's learned, and wants to inform others, that diets are significant contributors to our ecological footprint.
Creating videos as school projects has given Cynthia some experience with filmmaking and she enjoys editing and creating info graphics in her film class. For Cynthia, finding footage to use in her video was the biggest challenge because there isn't much agricultural imagery to capture where she's located. Her advice for future participants is to keep in mind that some people might be immune to an issue if they've heard a lot about it, and urges filmmakers to bring a new perspective to the problem.
Cynthia hopes to start an organization that takes youths' ideas and turns them into projects and plans to put her prize money towards this venture. She aims to attend college and major in Engineering or Architecture but currently keeps busy with dancing and staying involved in her community. When prompted about her superpower choice Cynthia claims that she would fly "because it must be beautiful to see the Earth from space and it would be great to fly everywhere and not have to pay for flights!"
Beef Up Sustainable Farming
Want to see yourself among the winners?
Enter the contest and you could find yourself featured here!
Get Started Here