1st Place
2023 High School Winners
Climate Change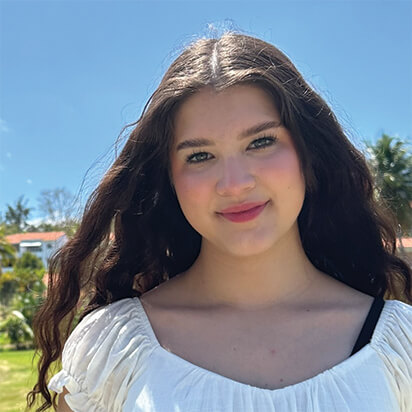 Sophia Rico
Legacy of Educational Excellence (LEE) High School San Antonio, TX
Sophia Rico is in the 10th grade at Legacy of Educational Excellence High School in San Antonio, Texas. The World of 8 Billion contest was an assignment in her AP Environmental Science class. She chose climate change as the topic for her video because she has always been interested in how battery technology could help reduce the impacts. She was aware of the impacts of climate change with a growing population but was surprised that there weren't as many articles that talk about batteries as a solution.
Sophia has created self-tape frames for auditions for the musical theater program at her school but this was the first time she had created a video like this. While creating her video, Sophia found it challenging to get all of the information she researched into the one-minute time limit. Her approach to developing her video was to "think about it as if [she] was teaching someone that never heard about the topic before." For example, she outlined the problem, possible impacts, and ways we can fix it, which helped her decide what to include in her script. Some advice she has for future participants is to prioritize what information you will include. She said there were entire sections of information that she ended up not using in her video because she determined later they weren't necessary. She advises future contest participants to find time to sit down and write the script, "even if it is the worst first draft, you have to start from somewhere," and to look at prior contest winners for inspiration.
Sophia is in the art magnet program, NESA (North East School of the Arts). She is interested in math, physics, environmental science, plays the guitar, sings, dances, and acts. She participates in theater productions, won a theater subject award, and is going to be in her school's production of The Crucible this spring. She also founded a book club and would like to start another one that focuses on non-fiction books. She is inspired by the work Elon Musk has done around batteries in Tesla/electric cars but her dad is her biggest inspiration, and has ignited her passion for science. She is interested in continuing to learn about how batteries can make a better future by creating aluminum ion batteries as an electrical or materials engineer.
Better Batteries for a Better Future
Want to see yourself among the winners?
Enter the contest and you could find yourself featured here!
Get Started Here