Honorable Mention
2015 Winners
Most of The World's Suitable Farmland is Already Under Cultivation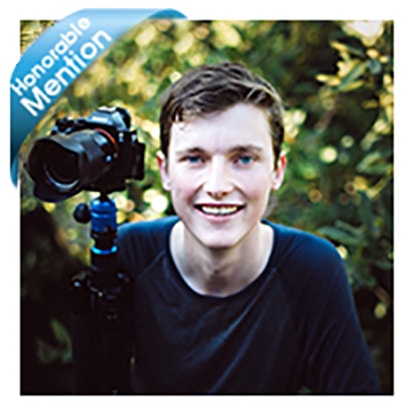 Tim Eddy
Southern Cross K-12 School, Ballina East, NSW, Australia
A senior at Southern Cross K-12 School in New South Wales, Australia, Tim Eddy is a second time winner in the World of 7 Billion video contest. Last year he took home the first place award for a video connecting population to global poverty. He tells us that this year he was drawn to the challenge of suitable farmland because it seemed like the issue where ordinary people could easily make a difference.
Tim has created many short films, several of which have been screened around the world at festivals like the New York International Children's Film Fest and Tropfest Junior. The idea to shoot his video in a supermarket came to him while brainstorming ways to deliver the information in a fun, attention-grabbing way. But actually filming on location was somewhat challenging because of all the people. As an accomplished filmmaker Tim has learned many things over the years and advises others to "disregard the first few ideas you think of because they're usually the ones everyone else thinks of. Keep brainstorming and find a unique and engaging way to convey your message."
With his winnings, Tim plans to purchase more film equipment. He is passionate about filmmaking and says "every single project I undertake becomes a huge part of my life, ensuring it receives my undivided attention and greatest effort." He wants to travel the world making films and will get this dream started after graduation, when he'll journey to Japan to spend the year.
Want to see yourself among the winners?
Enter the contest and you could find yourself featured here!
Get Started Here