1st Place
2023 High School Winners
Gender Equality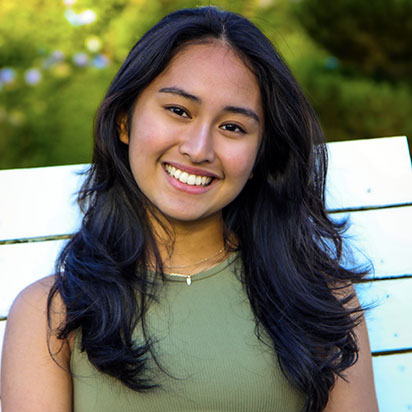 Maria Aurelio
Olympia High School Olympia, WA
Maria Aurelio is a senior at Olympia High School in Olympia, Washington. After graduation, she plans to attend Cornell University and major in cognitive science on the pre-med track to hopefully become a psychiatrist or a neurologist. Maria found the World of 8 Billion contest through a social media post and decided to participate as it combined two of her interests: video editing and gender equality. Prior to creating her video, Maria "might've known maybe a fact or two, but that was something [she] really valued from this experience," the opportunity to learn more about how population and gender equality tie into each other.
Maria first started getting into video editing during her freshman year as part of Future Business Leaders of America (FBLA). Ever since participating in their digital video production contest, she enjoyed editing videos in her free time. Maria found the contest's time limit to be challenging, but the most difficult part was coming up with a good script because "it's hard to take that first step; you feel so lost when you don't know where to start but getting those initial thoughts down is really helpful." Her advice for future contest participants is to explore all the prompts you are given because there might be something else that piques your interest. She also encourages you to see how your video topic intersects with the other topics and to keep learning even after you submit your video.
Maria lives with her mom, her dad, and her little sister. She and her family emigrated from the Philippines when she was 7 years old. Filipino culture and food, especially the food made by her mom, is really important to her. Volunteering and service are central to Maria's life, as evidenced by her membership in her school's Equity Team, Associative Student Body, Key Club, Rotary Interact, and National Honor Society. Maria has been playing the violin since 6th grade and is part of her high school's chamber and symphony orchestras as well as the Student Orchestra of Greater Olympia (SOGO). She recently won a first place regional award in a violin solo category and is now going on to represent her region at the state competition. When asked who her role model is she responded with "My mom, I think she is the epitome of my model and hard work. I can always look up to her and talk to her. The amount of work and love she puts into our family is really inspiring."
Close the Gap: Gender Inequality and Labor
Want to see yourself among the winners?
Enter the contest and you could find yourself featured here!
Get Started Here