Honorable Mention
2017 High School Winners
2017 Climate Change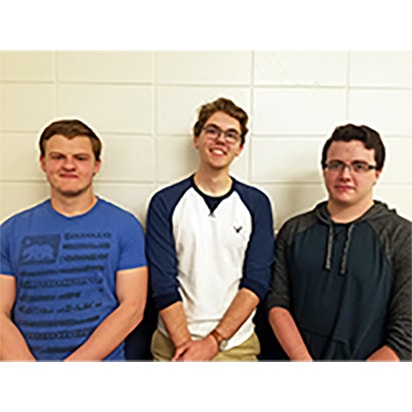 Ethan Taylor, Jeffery Whitmire, Gavin Meeker
Fannin County High School Blue Ridge, Georgia
Ethan Taylor, Jeffery Whitmire, and Gavin Meeker are seniors at Fannin County High School in Blue Ridge, Georgia for whom the video contest was originally a class assignment. The group had learned about Mexico City's ongoing efforts to incorporate green space as a means of fighting extensive air pollution, and were inspired by the thought of solving climate issues on a small scale and naturalistic way.
The boys live in a rural area with few big buildings around and a lot of open space, and they wanted to emphasize the attractiveness of "green cities" by contrasting home shot footage of their local landscape – like the creek in the beginning of the video – with images of crowded urban metropolises like nearby Atlanta. They were aided by the fact that Ethan is an avid photographer, and were able to use images from his previous photoshoots to supplement the video.
All three boys have big post-graduation plans. Jeffery, who played football through high school, is looking forward to attending Kennesaw State University to pursue either finance or engineering. Gavin, who produces his own music, will also be enrolling at Kennesaw State with an eye on studying business or managerial science. Ethan will pursue a degree in engineering at the University of North Georgia while continuing to follow his greatest passion, photography, on the weekends.
Want to see yourself among the winners?
Enter the contest and you could find yourself featured here!
Get Started Here