Honorable Mention
2015-2016 High School Winners
Water Scarcity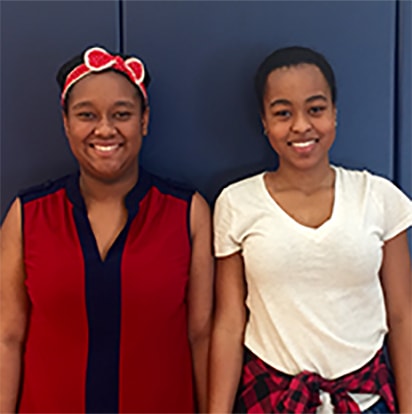 Christelle Chavannes and Dorynn Mentor
Lycée Français de Chicago Bilingual School, Chicago, IL
Cousins Christelle Chavannes and Dorynn Mentor, both sophomores at the Lycée Français de Chicago Bilingual School in Chicago, IL, created their video as an assignment for their geography class where they covered topics of sustainable development. The pair thought water scarcity was a clear extension so chose that as their topic. They did have some previous exposure to population issues and shared, "population growth has an impact on our natural resources and it's really important for us to find a way to meet the needs of the 7 billion people on our planet." They were shocked to learn how many people are unable to attend school due to water scarcity and added "it makes you really appreciate what you have."
The team knew they didn't want to focus on water in just one way or in one region so chose a 'kit' of irrigation and water saving items as their solution – it would allow them to tackle the various needs of different sectors and countries. Dorynn explains that they "wanted to make a kit that is accessible to every country despite varying economic backgrounds." With no prior experience in filmmaking, learning to use video software was one of the more challenging parts of the process for the team. But when asked what advice they have for future contest participants, they focused on combining serious focus with fun. Christelle says "be creative as you can but…be sure to not leave anything for interpretation."
Christelle and Dorynn are very active at their school – both participate in Model UN and Spanish club. Dorynn volunteers in the kindergarten classes, and Christelle enjoys dance and figure skating. The cousins, who act more like sisters, will be visiting family in Haiti this summer. They've also been teaching Creole classes to teachers and juniors at their school in preparation for an upcoming school trip to Haiti. Both plan to save their winnings for college; Christelle wants to be a laywer and Dorynn hopes to study medicine.
Want to see yourself among the winners?
Enter the contest and you could find yourself featured here!
Get Started Here