1st Place
2023 Middle School Winners
Climate Change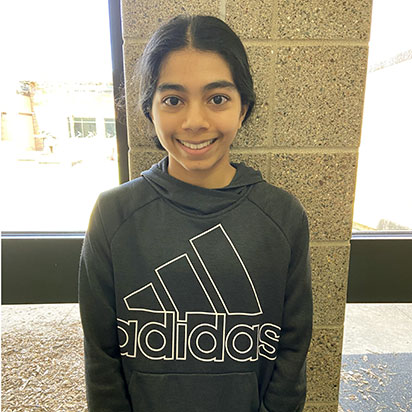 Eera Deshpande
Hidden Oaks Middle School Prior Lake, MN
Eera is an 8th grader at Hidden Oaks Middle School in Prior Lake, Minnesota. She participated in the World of 8 Billion contest as part of a class assignment. Prior to participating in the contest, Eera was aware that the population was growing, had learned about carrying capacity, and knew that there could be problems in the future.
Eera chose her topic – the connections between raising livestock and climate change – based on a David Attenborough documentary and the book Eat for the Planet, both of which she was introduced to last year. Through her research, she was surprised by "the numbers of how much more vegetables you could grow in comparison to raising livestock." Eera has made videos before for various school video projects, but this was her first time animating something. Her biggest challenge was "trying to fit all the information into one minute," which she solved by only keeping the most convincing parts. Her advice for future contest participants is to try and only include information that is related to your main argument.
Eera lives with her mom, dad, younger brother, and her two guinea pigs: Sugar and Sandy. In the future, she wants to attend an Ivy League college and study genetics or astronomy. She enjoys participating in science fairs and "the process of learning along the way" that comes with them. It might not always be a super smooth project, "but it's fun to look back at where you went." Her hobbies include going on bike rides, having picnics, reading, and playing the saxophone. She is currently a part of her school's concert band as well as an honor band. Eera is excited to audition for her new high school's wind ensemble this summer. She is inspired by the hard work of her mom as well as all of her teachers.
Earth's Fate on Your Plate
Want to see yourself among the winners?
Enter the contest and you could find yourself featured here!
Get Started Here