1st Place
2014 Winners
Water Sustainability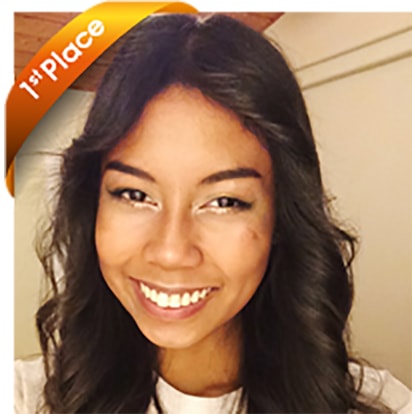 Kayla Briet
Cypress High School, Cypress, CA
Kayla Briet, a senior at Cypress High School in Cypress, California, found out about the video contest through an internet search and was drawn to it because of her interest in environmental science. Water Sustainability seemed like a good fit because "it is local and applicable to everyday lives." Moreover, water and population issues resonate with her family's diverse background; she has relatives living in crowded areas like China and Indonesia, and others on American Indian reservations where water shortages occur.
Kayla's commitment to environmental science meant that she carefully researched all of the information she presented in her video. "I really love to delve into the research aspect," she said, "and not just spew up words. I love to try to be as credible as possible." She also composed and performed the soundtrack for "Every Drop Counts," lending to her video's originality and personal touch. But for Kayla, the most important message she wants viewers to take away is that their choices can impact the world. "In environmental terms, big companies are so powerful, but when people really believe in themselves and their capabilities we can make a difference in even the smallest choices."
Kayla is an active filmmaker who has won awards in other contests, including Second Place in the White House Student Film Festival, which won her a trip to DC to meet President Obama. She is thankful for the support of these contests as it has given her a sense of purpose and means her efforts "are not just shrugged off as some random high school student making videos."
Want to see yourself among the winners?
Enter the contest and you could find yourself featured here!
Get Started Here