2nd Place
2015-2016 High School Winners
Public Health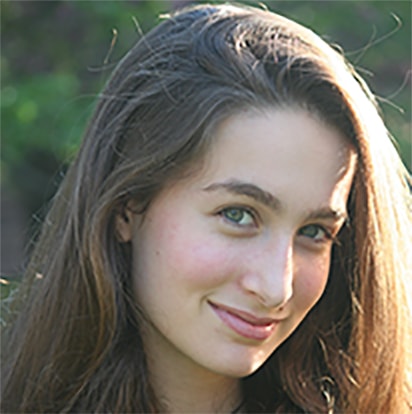 Mia Freund
Dalton School, New York, NY
Mia Freund is a freshman at the Dalton School in Manhattan, NY. Her biology teacher used the contest as a class assignment and encouraged students to submit their videos. She finds public health interesting because it addresses issues she cares about such as women's rights. This interest is one reason Mia focused on the sub-topic of maternal health, but also because it allowed her to consider both social and scientific perspectives. Prior to participating in the contest, Mia had some exposure to population issues and its impacts. However, she shared, "I didn't know to what extent population affects so many aspects of the world and how it affects different people in different ways."
As she began to think of how to organize her video, Mia noticed many of her classmates using animation apps. She decided to take the old fashioned approach to filmmaking in order to have more control over her video. She explains, "I was interested in the visual power I could have if I took the filming into my hands and that way could control the message." Mia enjoys acting which has given her experience in front of the camera. However this was her first experience behind the camera, and she has gained a greater appreciation for the filmmaking process. She thinks it's especially interesting when films can be used as a tool to shed light on political and social issues.
Mia is interested in publications and magazines, and writes for her school's newspaper and literary magazine. In her free time, she enjoys tennis, theater and acting, and her very low maintenance pet, Eleanor the African Dwarf frog. This summer she plans to volunteer at the Greenwich Audubon society where she will be leading hikes and educating children on ecology. As for the prize money, she'll probably save it.
Want to see yourself among the winners?
Enter the contest and you could find yourself featured here!
Get Started Here