2nd Place
2015-2016 Middle School Winners
Deforestation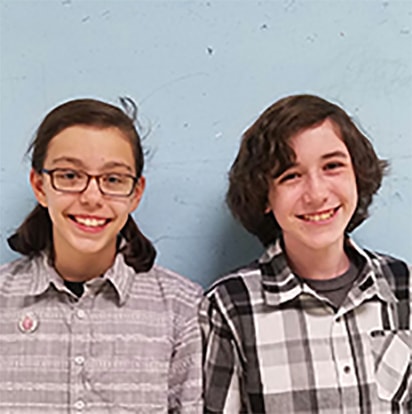 William Griffith and Daisy Andrejco
South Orange Middle School, South Orange, NJ
Partners William Griffith and Daisy Andrejco are seventh graders at South Orange Middle School in New Jersey. They are both in Ms. Karis's Global Issues class and creating a video was a project when the class covered sustainability. "We both consider ourselves environmentalists and like animals," they explained, and that was why they chose the topic of deforestation. It was also a local issue to them. Their town is near a forest reservation and they can see the struggle between humans and animals over habitat play out.
The pair had some background knowledge of population growth by way of a visual class demonstration on birth and death rates but had to conduct research to learn more, gathering information from over 15 websites. William and Daisy agreed from the start to take on stop-motion animation but admit that cutting out all of the images was one of the more challenging aspects of the process. They also had to do many takes of the audio, recording in a school hallway that was noisy at times. But even so, the team stresses how much fun they had creating the video. In fact, their advice for future participants is to "make it something you enjoy and don't stress yourself out."
William and Daisy are both active in the arts. William likes to sing and act, and was in the school's play both this year and last year. Daisy plays the violin both through private lessons and with the orchestra. Both students are members of the school's Shakespeare Club where they get to act out specific scenes but also interpret them originally. In the coming months, they'll be preforming in three shows. They aren't sure what they'll do with the prize money just yet, but William and Daisy agree that half of it will be donated.
Habitat Loss in the Rainforest
Want to see yourself among the winners?
Enter the contest and you could find yourself featured here!
Get Started Here