1st Place
2020 Middle School Winners
2020 Improving Climate Resiliency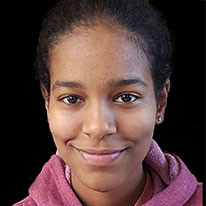 Ruth Mekuria
Wildwood School Los Angeles, California
Ruth is in 8th grade and attends the Wildwood School in Los Angeles, California. The contest was part of her science class's project. She decided to focus on climate migrants as her topic because she sees it as an important issue that the world needs to do something about. "I thought that it was so sad people had to move because of it. "Climate change is effecting people in a major way," she said of when she started researching her topic and learning how much climate-caused events disrupt and displace peoples' lives. Her solution centered around civic engagement, specifically, voting and demonstrations to urge policymakers to take action on climate change and help climate migrants. "I wanted to do a simple solution that we all could do" she said, noting that influencing lawmakers is important. "If we vote for people, we can take action."
This is Ruth's first award for a project, and it's her first filmmaking project, having previously just worked on presentations and slideshows for classes. She said working on her animation-style video for the contest helped her gain valuable media experience that she thinks will help her in future assignments and projects. She said the most challenging part of the process was trying to cut her script down to fit the 60-second limit. "It took me three tries to finish it. On my first try I wrote a 30-minute thing and had to go back," she said, saying her teacher helped by advising her to not add too many extra details and to summarize main points. She advises future contest participants, and especially first-time filmmakers, to "have high expectations for yourself" by putting forth a good effort and believing you have a shot at winning. However, she said to remember, "Even if you don't win it's still a good experience. Before I knew that I won, I knew that I was glad I did something like this." She said she is not sure yet what she will do with the prize money.
Ruth has an older brother and a younger sister, and says her family and friends are a great inspiration to her because they give great advice and are fun to be around. She enjoys painting and drawing, and began ice-skating at around age 5 or 6. She still enjoys ice-skating for fun, and also plays piano. Her favorite class at school is math. "I really like how there is a definite answer. And I like solving problems" she said. For her career, she said a dream job would possibly be a doctor, or something that involves math.
Want to see yourself among the winners?
Enter the contest and you could find yourself featured here!
Get Started Here