Honorable Mention
2017 High School Winners
2017 Rapid Urbanization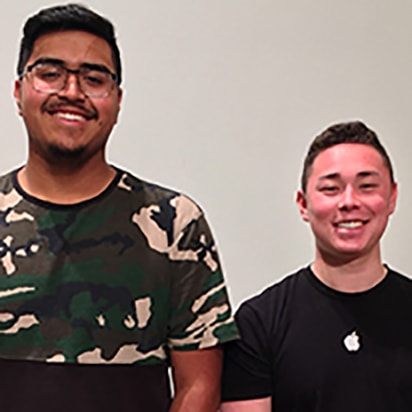 Jeff Morales and Sawyer Nunley
Highland High School Salt Lake City, Utah
Sawyer Nunley and Jeff Morales are seniors at Highland High School in Salt Lake City, Utah who found out about the contest from an advertisement in his video production class. Sawyer shared that his AP Environmental Science class has really opened his eyes to the destructive relationship humans have developed with nature, and he saw the contest as an opportunity to further explore how that dynamic plays out in his home state. He emphasized how personal experience drove him to investigate these issues, "I live further up in the mountains and look down into the valley, and usually I can see the entire city from my window. During the winter, the smog is so bad that I can barely see a couple street blocks."
Sawyer is a technology specialist at his school, which means his video experience spans from making videos for assemblies to producing highlight videos of school trips or cliff diving. He and Michael employed those skills in creating their entry, using entirely home shot footage – including a shot from above the freeway that he took using his drone. Sawyer's previous focus on non-narrative videos made planning out his submission a trickier prospect. He advised future participants to spend significant time finding credible sources and then storyboarding their videos before starting to film.
For fun, Sawyer tries to take full advantage of the glut of outdoors opportunities that Salt Lake City offers. In addition to hiking, snowmobiling, and dirt biking, he also likes to film drone-shot videos of the stunning landscape surrounding Moab. After graduating, Sawyer will travel to New Zealand for his mission trip. After he gets back to the States, he plans on enrolling at Brigham Young University and pursue a degree in film.
Want to see yourself among the winners?
Enter the contest and you could find yourself featured here!
Get Started Here