1st Place
2019 Middle School Winners
2019 Preserving Biodiversity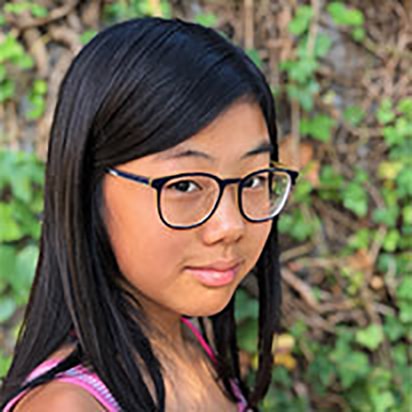 Ruby Ha
Benjamin Franklin Middle School Teaneck, NJ
Ruby Ha is an eighth grader at Benjamin Franklin Middle School in Teaneck, New Jersey. She first learned about the video contest in her Video Documentary class when her teacher made it an optional project assignment. As someone who enjoys the outdoors, she's "concerned by the prospect that the earth might not be the same one day." Ruby wants to be a humanitarian when she grows up and believes the video contest was a "great opportunity for her to be creative and make a statement!" She's always been aware of how a growing population negatively impacts the ecosystem of bees and decided on this as the focus of her video.
Ruby chose to produce her video using stop-motion after experiencing some difficulty filming outside in the winter months. She has previous experience in video production, first learning the basics at a summer camp two years ago, but this was her first attempt at stop-motion. After winning the World of 7 Billion video contest, she is now "motivated to continue to produce videos!" Ruby enjoyed her time with the contest and found the most challenging component having to "meet all the content standards, and not just focusing on the beauty of the video." It was important for her to find reliable and consistent sources with accurate data. She advises future contest participants to, "choose a topic you are most passionate about so you can make the video your own!"
Ruby has plans to purchase film equipment with her prize money. She is exploring ways to combine her video production skills and her passion as a humanitarian. After taking a Global Concerns class and learning about disadvantaged youth in South Sudan, she knows she wants to dedicate her life to improving access to education for all. "If we give people an opportunity to learn, especially with issues related to health and hygiene, it can have a true ripple effect in their families, communities, and eventually all over the world."
Want to see yourself among the winners?
Enter the contest and you could find yourself featured here!
Get Started Here