Honorable Mention
2023 High School Winners
Climate Change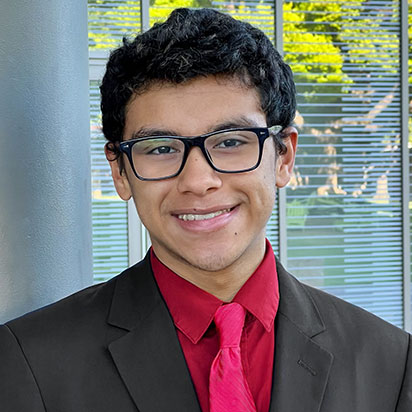 Roberto Quesada
Brooklyn Technical High School Brooklyn, NY
Roberto Quesada is a senior at Brooklyn Technical High School in New York. He was introduced to the World of 8 Billion student video contest by his AP Environmental Science teacher. All three of the global topics were important to Roberto but he was drawn to climate change because it has been one of the biggest issues he has seen and "addresses the root of so many environmental problems." He remembers the climate strikes his freshman year where thousands of people took to the streets in New York City to combat corporations putting profit over people. Roberto shared that with "talking about climate change you can also discuss environmental and social justice more broadly", and that with a growing population, especially in urban areas, mass transit will be even more important and needed in the future.
Roberto's inspiration for his video came when he had to travel often from DC to NYC. He found that the trains were expensive and unreliable and at times it was cheaper to fly. He thought about how other countries like Japan have high speed trains that create a more equitable and environmentally friendly mode of transport than what is available in the United States. He has experimented with video creation but has never had any of his work published online. Roberto found the time limit of the contest to be challenging because he had so much to say. Throughout the process of creating his script, he learned to be precise and concise with his messaging. Some advice he has to future participants is to "be true to yourself and reflect on parts of your personal identity to determine what you want to talk about. Forming that personal connection can help you make a bigger impact." He would like to see social justice as a topic in the future, focusing on the intersection of climate change, racism, LGBTQIA+ rights, and women's rights.
A big part of Roberto's identity is that he is Honduran-American and he is very active with issues that impact Latino communities. He is inspired by Berta Cáceres, a Honduran climate activist who fought to protect indigenous lands from pollution. Roberto said that Berta was very brave and modeled for him how important it is to "try to speak up, even when it is difficult and there are challenges in the way." In addition to his activism, Roberto is also into debate, creating art with political themes, and finding time to travel and learn new things. He is a part of the USA Debate Team, won a Scholastic Congressional Art Competition, and a Yale-Bassett Award for community engagement and racial justice activism. Roberto will be attending Harvard next year and is interested in government so he can "be in a position to advocate for his community, the Latino community, and people at large for better transportation models."
Mass Transit: The Express Train To Sustainability
Want to see yourself among the winners?
Enter the contest and you could find yourself featured here!
Get Started Here