2nd Place
2023 Middle School Winners
Climate Change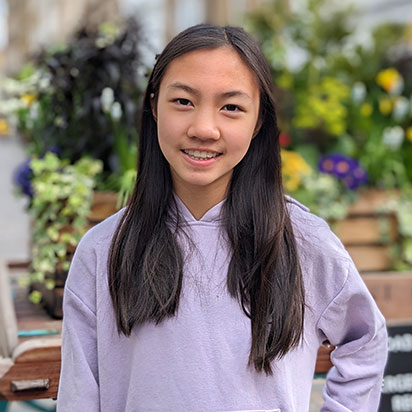 Jade Lan
Coleytown Middle School Westport, CT
Jade is a 6th grader at Coleytown Middle School in Westport, Connecticut. She decided to participate in the World of 8 Billion contest after hearing her teacher encourage the 7th grade students to participate in it. She had done some video editing in the past with the help of her dad, so she was confident she could do it! Before making her video, Jade was not really aware of the growing population or its connections to climate change. She was shocked to learn that the countries that put out the least amount of emissions are also the ones most affected by climate change impacts.
The hardest part of making the video for Jade was actually deciding on a topic. She originally wanted to make a video on deforestation. But then the inspiration for focusing her video on environmental justice came after reading a New York Times article about a young Houston family losing their recently-purchased home due to a natural disaster. She thought it was unfair that more affordable houses are often built in places that are more directly impacted by climate change/natural disasters. When asked to give advice to future contest participants, Jade replied with, "I think that you need to have a good amount of information on [your topic] but once you really understand [your topic] it's much easier to make a video.
Outside of school, Jade swims on a local swim team where her favorite stroke is the backstroke. In fact, she has previously made it to Connecticut's Age Group Championship in the 50 yard backstroke. Jade also participates in the Science Olympiad and her team placed 2nd in the state competition this year. Her other hobbies include cooking, baking, reading, playing the piano, and hanging out with her parents and little sister. Both of her parents are immigrants from Taiwan. She doesn't have any pets right now, but she would really like a dog or a cat. When asked who her role model is Jade replied with, "probably my Language Arts teacher because [of] her personality… she makes you excited to learn." Currently, Jade thinks she might want to be a software engineer because both her mom and uncle are software engineers and she "really likes problem-solving and logic."
Monitoring Climate Injustice
Want to see yourself among the winners?
Enter the contest and you could find yourself featured here!
Get Started Here