2nd Place
2017 High School Winners
2017 Climate Change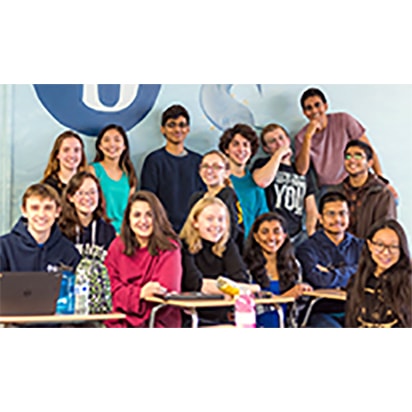 Arnav Madhiwalla and class
Morris Knolls Rockaway, New Jersey
Co-producers: Wesley Haag, George Noll, Katie Gear, Kim Fetherston, Abhinav Kumar, Andrea Anghel, Christine Carney, Erin Jengo-Quirk, Grace Cho, Jay Patel, Lily Aasmaa, Mark Urbanik, Natali Olmedo, Nitara Menon, Sumantra Chattopadhyay, Chloe Wohlgemuth
Arnav Madhiwalla (and 16 of his fellow classmates) at Morris Knolls High School in Rockway, New Jersey, found out about the contest from their teacher, Mr. Gambale. Arnav and several peers are avid filmmakers and decided to recruit the rest of their Theory of Knowledge classmates to create a video. Since the class had recently been discussing climate change that seemed to be the most obvious choice. The class spent several days researching, brainstorming how to convey the information, and then designing a story board. Arnav shares, "There are lots of pros and cons when working in a group as large as ours. One pro is there are a lot of ideas, and a con is trying to settle on just one."
Despite having prior knowledge of climate change and population, Arnav tells us, "The numbers and the rapid rate at which change is happening stunned us." From their research it became clear that it's going to take an enormous effort to fix this problem and they wanted to leave their viewers motivated to do just that by helping them visualize the solutions. The class decided on a Claymation video because some of the students had recently started to dabble with this filmmaking style.
The more experienced filmmakers share some advice for beginners, "Research first. You really need to know your topic before making your movie. Because it's not just about making a video but it's about teaching people. Do something you're passionate about. None of us went into the contest with just the intention of winning we wanted to create something that would make an impact." Following their own advice, their video features a powerful visual of an anthropomorphic earth suffering due to human driven activities.
This summer, the students plan to organize a road trip to visit national parks and enjoy nature first hand. They're considering donating their prize to an organization that works to mitigate climate change.
Want to see yourself among the winners?
Enter the contest and you could find yourself featured here!
Get Started Here