Honorable Mention
2015-2016 High School Winners
Public Health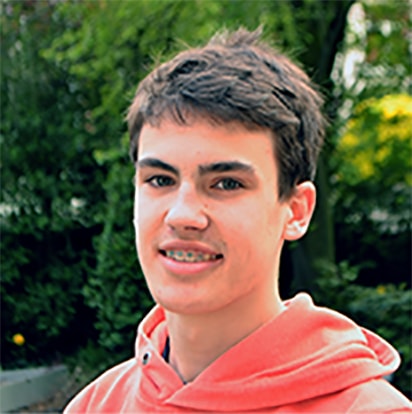 Victor Elgersma
European School of Brussels IV, Brussels, Belgium
Victor Elgersma is in grade 10 at the European School of Brussels IV in Brussels, Belgium. When he came across the contest online, he knew he had to participate because it combined his passion for filmmaking and his love for science and our planet. Victor submitted two (winning) videos – one for public health and the other for deforestation. When asked why these topics, he explained, "I chose Public Health in specific because I think that in terms of setbacks to the human condition, a major epidemic is the most likely disaster that could occur. I chose deforestation because I had always wanted to make a beautiful nature sequence with trees from the amazon."
Inspiration struck for Victor's public health video by way of a Bill Gates interview linking population and epidemics. "My main point in this film was that seeking to eradicate a disease simply isn't enough to solve the public health crisis that might result from increasing population levels," he said. Research led Victor to the "eat less meat" message of his deforestation video. He wanted to convey that there are simple and straightforward solutions to deforestation, starting with lowering our consumption of products like meat and palm oil.
Though he's been creating videos for several years, Victor's style has become more refined with time and the Video Essay format he took with these two films was new for him. And the 60-second time limit was a frustrating challenge. "After several hours of research, there were so many facts and figures…that I just couldn't bring myself to trim my script down," he said but still urges future filmmakers to do plenty of topical research before even thinking about the film.
Filmmaking has been Victor's passion since he was eleven years old and he hopes to continue making movies while pursuing a career in science by creating films that communicate science to the general public. Besides filmmaking, he enjoys playing the piano, practices Karate, and his favorite food is sushi. With his prize money, Victor plans to purchase the camera he has always wanted and can stop arguing with his parents over using theirs. This summer he will be visiting Nevada and California and hopes to take a lot of pictures, hopefully including some time lapse shots in the desert.
Public Health and Population Growth: a Visual Essay
Want to see yourself among the winners?
Enter the contest and you could find yourself featured here!
Get Started Here