1st Place
2015-2016 High School Winners
Water Scarcity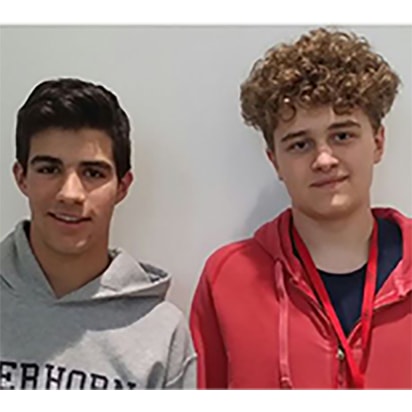 Jacob Furniss-Yesk and Leo Bopp
Lycée Français de Chicago Bilingual School, Chicago, IL
Jacob Furniss-Yesk and Leo Bopp are sophomores at the Lycée Français de Chicago Bilingual School in Chicago, IL. Both Jacob and Leo currently call Chicago home, but have lived abroad for a portion of their lives, Jacob in London and Leo in France and Germany. Their geography teacher, Mrs. Piccoli, introduced them to the contest and it was in her class that the pair learned about water scarcity as a major global issue. "It will be up to our generation to fix these problems," shared Jacob who sees the contest as a way of being able to help.
As the pair brainstormed possible solutions they realized that reducing water on a local scale was imperative and believe that the concept of greywater may be a solution that will help reduce water consumption sustainably. Creating a video like this was a first for both Jacob and Leo who both have little animation experience. They share some words of wisdom for future contest participants: "Keep your idea original and reasonable while still keeping it enriched with statistics and facts about the problems and solution."
Both team members plan to save their prize money for their future and will both be visiting family in Europe over the summer. Jake aspires to be a music producer or audio engineer. He loves Chinese food and likes to spend his free time playing soccer, producing music on his computer and playing with his dog, Daisy. Leo hopes to be a surgeon and enjoys watching soccer and eating burgers.
Reduce, Reuse, Recycle Water
Want to see yourself among the winners?
Enter the contest and you could find yourself featured here!
Get Started Here