2nd Place
2023 Middle School Winners
Gender Equality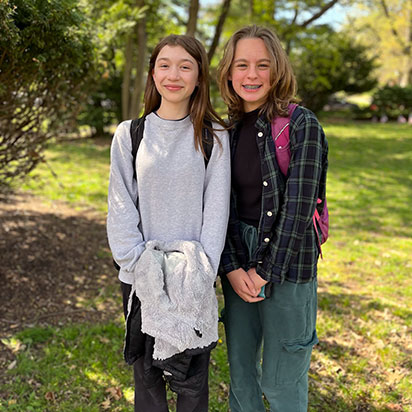 Adelaide Hobor and Hazel Boerger
South Orange Middle School South Orange, NJ
Addy Hobor and Hazel Boerger are both 7th graders at South Orange Middle School in South Orange, New Jersey. They participated in the World of 8 Billion because of a class assignment given to them by their social studies teacher. They chose the topic of gender equality because it seemed the most relevant to their own lives. Prior to making their video, Addy "didn't really think about [the connections between] population and gender equality." Hazel felt similarly, having never realized before just how much gender inequality can affect the population.
This was their first time making a video and they found inspiration for their topic from seeing what's happening in the U.S. right now. They felt that talking about reproductive rights was very relevant to current events. Addy found the whole process to be challenging, but fun. Hazel concurred, saying that it "took a long time to draw each frame," and that figuring out where to start, especially with the writing process, was really difficult. Their advice for future contestants is to prioritize time management and to make sure to start early in order to not procrastinate.
When it comes to the prize money, Hazel plans to donate some of it to their middle school's orchestra program. She plays the cello, but cello players can't bring their instruments to school and the school's instruments are not very good, so she hopes they are able to buy some new instruments. Hazel also enjoys Taekwondo, writing, reading, drawing, and hanging out with her mom, dad, older sister, and her cat, Ivy. Addy says that she has a tendency to pick up hobbies and move on from them pretty fast, but some of her more recent ones have been dancing, crocheting, sewing, and drawing. She also enjoys spending time with her parents, her younger sister and her two dogs: Maple and Stella. When asked about their role models and future goals, Addy responded with, "my mom and my aunt, they both work really hard and help out with my family." Hazel stated that her role models were "women who work and are parents because for a while you couldn't do both." She also stated that she's always wanted to be an OB/GYN when she grows up, but she could see herself potentially going into a more creative profession.
Want to see yourself among the winners?
Enter the contest and you could find yourself featured here!
Get Started Here