Honorable Mention
2017 High School Winners
2017 Climate Change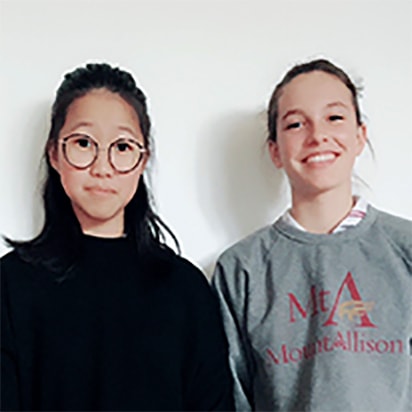 Carrie Hu and Julia Henry
The Bishop Strachan School Toronto, Ontario, Canada
Carrie Hu and Julia Henry, ninth graders at The Bishop Strachan School in Toronto, ON, created their video as an assignment for their geography class. They chose to focus their video on sea level rise because it seemed like an interesting way to look at climate and they didn't see many of their classmates looking into it. Information about climate change and population growth were both fairly new to the partners, so they conducted extensive research and based their video's message on the information they found.
Carrie and Julia had different ideas on what format would be best – computer animation, live video, or stop motion drawing on a chalkboard – and in the end, used a combination of all three. They filmed the live video themselves, using a camera while being driven around Toronto. While not experts in filmmaking, the partners did have some prior experience making videos for other classes. Writing the script was the biggest challenge they faced. "We had a lot of scary big numbers and thought it would be cool to put them in the beginning to catch the audience's attention," Carrie said. They wanted to make clear what consequences people will face if they don't modify their actions.
Julia plays for the school's volleyball team and Carrie figure skates and plays the piano. They don't know how they'll spend the prize money explaining "we weren't expecting to win. Some of our friends' work was excellent as well."
Want to see yourself among the winners?
Enter the contest and you could find yourself featured here!
Get Started Here