Honorable Mention
2023 High School Winners
Climate Change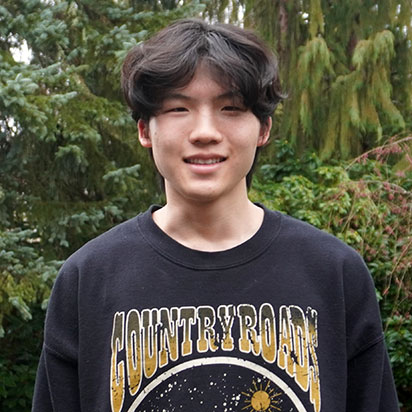 Ryan Lee
Issaquah High School Issaquah, WA
Ryan Lee is an 11th grader at Issaquah High School in Issaquah, Washington. He found the World of 8 Billion contest while looking online for video contests and chose to participate because he has a lot of interest in one of the topics – climate change. Climate change has been a concern for Ryan since he was young and an issue that's always been close to his heart. He knew that a rising population would create more emissions, but he didn't realize the extent of it nor the unequal impact it can have on low-income communities.
Ryan has been interested in making films for a while and attended a three-week course at the New York Film Academy last summer. He even won last year's Influence the Choice Student Video Contest with his video, The Alternative Timeline. When it came to creating his World of 8 Billion video, he wanted "to find a solution that was tangible… and that went from the top down." Ryan felt that if he targeted corporations and got them to come up with reusable, green solutions, then it would spread down to individuals. The biggest challenge for him was condensing his message into a one-minute time frame, while still "keep[ing] it interesting." His advice for future contestants is to "start their research early [and to] pick a topic that they are interested in." Also remember to be aware of the time constraints and use voice-over to help if you need to fit things in.
Alongside his passion for filmmaking, Ryan is the president and founder of his high school's Visual Effects Club and is the incoming president of the Film Club. In addition, he is part of his high school's robotics team and track team (his varsity relay team are state hopefuls!). He is also part of his city's Youth Advisory Board and sits on the environmental subsector. Ryan's hobbies include playing the guitar, cello, and piano. He plays the cello in the top district-wide orchestra, The Evergreen Philharmonic. When asked who his role model is, he responded with "My parents because I really admire their work ethic. " After graduating high school next year, he is debating whether to pursue a career in the film industry or computer science.
Setting a Cap to Climate Change
Want to see yourself among the winners?
Enter the contest and you could find yourself featured here!
Get Started Here