1st Place
2022 High School Winners
Agriculture & Food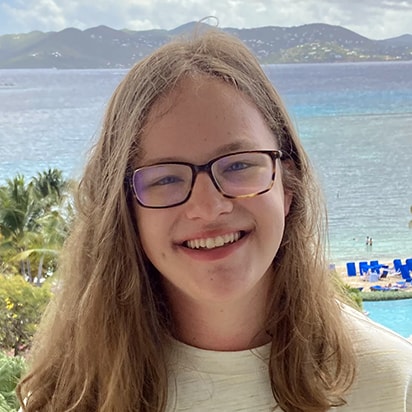 Abigail McDaniel
Great Valley High School Malvern, PA
Abigail McDaniel, who goes by Abby, is a freshman at Great Valley High School in Malvern, Pennsylvania. Abby has a background working in her high school's TV studio, and she is currently taking AP Environmental Science, so she thought that the World of 7 Billion contest would be a great fit for her.
Her winning video looked at the benefits of replacing the meat we eat with protein sources like insects. When she started researching for her video, she said that she was "really surprised by the recipes, and how many people around the world eat insects."
Abby advises future contest participants to be strategic when choosing what information to include in their one-minute videos. "You're going to find a topic, and you're going to do a lot of research on it and find so much information, but not all of that information can go into a one-minute video," she said. "So a lot of the skill comes from you being able to edit down your script so it's not too long but you still hit all your main points."
Abby is on her school's track team, where she throws discus and shotput. She is also an avid reader and enjoys spending time with her two dogs, a 100-pound lab named Harry, and a petite beagle named Scout. She says that right now she is interested in pursuing some sort of technology or engineering in the future.
Want to see yourself among the winners?
Enter the contest and you could find yourself featured here!
Get Started Here