2nd Place
2015-2016 Middle School Winners
Water Scarcity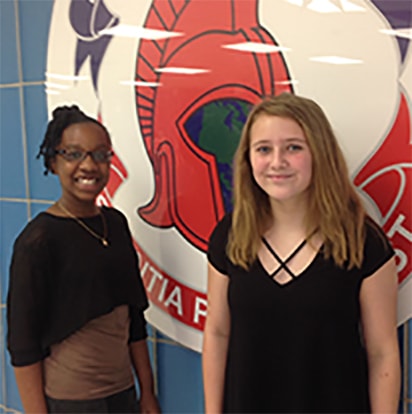 Samantha Guerrier and Reese Thornton
Plaza Middle School, Virginia Beach, VA
Samantha Guerrier and Reese Thornton, seventh graders at Plaza Middle School in Virginia Beach, VA created their video as a class project in their science class but were not required to submit the video into the contest. They chose to submit because as Sam explained, they were "excited about the idea and wanted to see if it could impact everyone else and get the solution out into the world." Reese shared that they decided on the topic because "water scarcity is one of the huge problems that's affecting us today and will affect us big time in the future so it's necessary for us to find solutions."
The pair knew they wanted to use a creative method for sharing their important message, and after some consideration landed on doing time lapse drawings on a white board. Aware of the popularity of this type of video with young people, they thought it would be an effective way to get through to their peers. Both Sam and Reese have some experience with making videos, whether for other school projects or on their own. And they do have some advice for future filmmakers: Reese stressed the importance of having everything carefully planned, right down to the last detail, before you begin filming; and Sam suggests using a catchy ending that will stick in the viewers' minds and stay with them.
Avid readers, the team thinks that some of their prize money will be spent on new books. Reese might also use some of the prize to buy penny stocks because she's interested in investing. She also enjoys DC comics, researching and riding rollercoasters, and cheers competitively. Sam enjoys acting and has appeared in several plays. Writing is one of her favorite pastimes.
Want to see yourself among the winners?
Enter the contest and you could find yourself featured here!
Get Started Here