2nd Place
2020 Middle School Winners
2020 Ensuring Economic Opportunities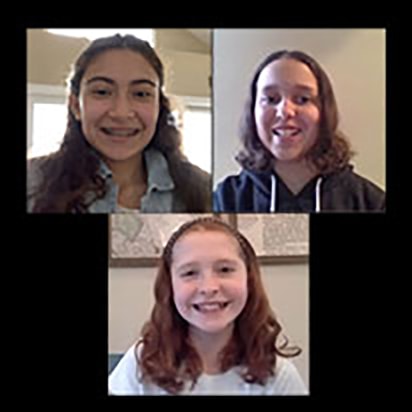 Ava Varasano, Mae Curiale and Luna Espinosa DeRosas
North Shore Middle School Glen Head, New York
Ava Varasno is a sixth grader at North Shore middle school in Glen Head, New York. Ava and her co-producers, Luna Espinosa DeRosas and Mae Curiale, first heard about the video contest in their Global Village class, where they learn about social studies topics such as global citizenship. The video contest was an optional project, but they decided to move forward with producing a video after conducting some preliminary research and learning of the detrimental impacts of overfishing on economic opportunities for fishers in the industry and ocean wildlife.
When determining roles for producing their video, they concluded it was best to lean into their team's unique expertise. Ava explained, "I love art, Mae enjoys discussing issues, and Luna likes doing research!" The group knew they wanted a white board aesthetic in their video, but thought stop motion would take too long. Fortunately, they discovered the "Explain Everything" app, which allowed them to save time by producing their video using the software's interactive whiteboard feature. This was the first time anyone on the team had produced a video, so they were thrilled to learn they won second place! They think they might donate the cash prize and look forward to gathering their classmates' input.
Ava and her co-producers have known one another for a long time and were delighted to work together on this project. Ava enjoys art and plays softball, soccer, and sails. Her dog Pumpkin, a Golden doodle, is always fun to be around, especially during her school's online transition due to COVID-19.
We're Not Off The Hook Yet
Want to see yourself among the winners?
Enter the contest and you could find yourself featured here!
Get Started Here