1st Place
2015-2016 Middle School Winners
Deforestation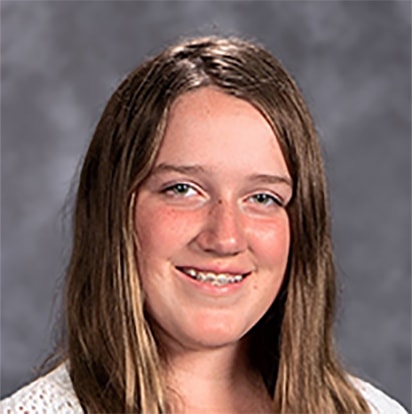 Holly Golightly
Noblesville West Middle School, Noblesville, IN
Holly Golightly is a seventh grader at Noblesville West Middle School in Noblesville, IN and created her video for her science class. Holly shared that she got the idea for her video from a book she read in elementary school about deforestation in the rainforest. Before creating her video, Holly was aware of population and its impacts but was surprised to learn how population specifically affects deforestation.
Because she enjoys art and drawing, Holly decided to illustrate her video with her own sketches. She's made a couple of videos for school projects but this was her first time using animation. Despite never having worked with animation software before Holly's greatest challenge was her script. She shares some advice for future contest participants: "Don't think of the video as a just a school project but rather look at the video as a means to educate others on a specific topic."
In her free time, Holly enjoys playing soccer, going to the pool with friends, and spending time with her dog, Pepper, a Cairn Terrier like Toto from the Wizard of Oz. At the moment, Holly aspires to be either a teacher or a guidance counselor. This summer Holly will travel to Peru with her school through the No Barriers group and is looking forward to learning about Peruvian culture and meeting with indigenous tribes. She is excited to use some of her prize money to purchase souvenirs.
Want to see yourself among the winners?
Enter the contest and you could find yourself featured here!
Get Started Here